How to Avoid Unnecessary Surgery
$myloop ++; ?>
Individuals would be shocked at the number of unnecessary surgeries annually performed in the United States. Unnecessary surgery, by definition, is exactly what it sounds like; "Any surgical intervention that is either not needed, not indicated, or not in the patient's best interest when weighed against other available options, including conservative measures." Fortunately, there are easy, effective actions that you can take to avoid going under the knife. 
Four Ways to Avoid Undergoing Unnecessary Surgery 
1. Be educated. 
Don't be afraid to ask your doctor questions to better understand how the recommended procedure will help you in the long run. Will this surgery get rid of your pain? Will this surgery help improve the way your body operates? If the answer to either of these questions is yes, ask them to explain exactly how it will help. The same thing goes for understanding the risks. Be aware of common complications as well as worst-case-scenario situations. Being fully informed will allow you to make the best decision for you. You are your biggest advocate. 
2. Know your doctor. 
Research your physician and/or surgeon to be sure you are comfortable with the person who is taking care of you. Look into their board certifications, their success rate for the surgery they are presenting to you, and the number of times they have performed the procedure. There is nothing wrong with being certain you are in the best hands and receiving the best care. 
3. Consider any alternative treatments. 
Not all cases of illness or chronic pain require surgery. Be sure to discuss any and all alternative courses of treatment with your physician. Symptom management or watchful waiting may be the route to go; monitoring your symptoms while holding off on surgery to see if your condition improves, worsens, or remains the same. 
4. Prioritize a healthy lifestyle. 
You've heard this one time and time again and it still rings true. Get moving, even if you're just taking a daily ten-minute walk. Drink plenty of water. Focus on eating a whole-foods or low-fat diet. Be sure you are getting adequate sleep every night. Modifying your lifestyle to incorporate healthier behaviors ultimately leads to a healthier you. 
Understandably, sometimes surgery is the best course of action for patients. However, you should never feel pressured to move forward with any medical treatment you are uncomfortable with. Be educated, know your doctor, consider alternative therapies, and prioritize a healthy lifestyle. These four steps alone may help you, or a loved one, avoid an unnecessary surgery.
The experts at Progressive Pain Management can help manage pain conditions using minimally-invasive techniques and state-of-the-art therapies to help you avoid surgery. Fill out the form below to get started.  
9 Common Treatment Options for Chronic Pain
$myloop ++; ?>
There is an ever-growing variety of treatments for those suffering from chronic pain. There is the option of general medicine – oral and topical therapies – that can be used to reduce pain and inflammation. Your doctor may suggest non-medication pain relievers or even use alternative methods like acupuncture. 
Physicians will occasionally use interventional techniques involving outpatient procedures or injections of various levels to treat pain. With the recent growth of research, knowledge, and game-changing technology, the amount of treatment options keeps increasing. But not only that, reliable, effective, and safe techniques can be used to manage pain. 
Common Treatment Options to Relieve Chronic Pain
Exercise
Although rest alleviates pain, too much rest can actually increase pain and increase your risk of further injury. Stay active to help relieve pain from common conditions such as lower back pain, arthritis, and fibromyalgia. Exercise releases endorphins – the body's natural painkiller – so as you exercise, you are helping your body diminish pain and build strength. 
2. TENS
TENS (transcutaneous electrical nerve stimulation) therapy uses a low-voltage electrical current to block pain signals from going to the brain. Electrodes are placed on the skin near the affected area and the electrical stimulation is transmitted into the nerves, blocking "normal" pain signals. 
3. Biofeedback
Biofeedback is a machine-assisted technique that measures information about physical characteristics from a patient. It can capture data such as heart rate, brain activity, and body temperature to help enhance the patient's awareness of how their body reacts to stress and pain. This helps patients learn how to manage physical and emotional pain due to chronic conditions. 
4. Yoga
Yoga incorporates a number of relaxation techniques such as breath control, meditation, and strength-training exercises. The combination of these techniques help with chronic pain conditions like arthritis, headaches, back pain, and fibromyalgia. Yoga helps reduce pain that is specific to stress-related conditions. The gentle movements of yoga helps strengthen muscles without putting strain on other parts of the body. 
5. OTC Pain Relievers
Over-the-counter pain relievers such as NSAIDs and acetaminophen help relieve mild to moderate pain. The most common medications are Tylenol, Advil, Motrin, and Aleve. NSAIDs reduce inflammation and swelling. Your doctor will be able to suggest which type of OTC medication is best for your chronic pain. Taking pain relievers for long-term relief can cause negative side effects, so be sure to consult with a physician before taking anything. 
6. Nerve Block Injections
Nerve block injections are primarily performed as outpatient procedures, but may be used on patients who are already hospitalized for other reasons. Often times, doctors will use contrast dye to determine the most accurate placement of the injection needle. There are a number of different types of injections: epidural steroid injections, facet joint injections, lumbar sympathetic block, celiac plexus block, as well as others. 
7. Physical Therapy
Physical therapy helps relieve pain by using specialized movements and techniques. PT helps restore range of motion, improve movement, and normal functions that have been impaired by injury, chronic pain, or a disability. Physical therapists utilize a variety of techniques to provide well-rounded care for their patients including stretching, strength-training, pain-relieving techniques, and sometimes TENS therapy. The goal is to help restore your quality of life and help patients get back to doing what they love. 
8. Mind-Body Relaxation Techniques
Mind-body therapies are techniques that are used to train the mind's ability to positively affect pain and symptoms of the body. Many techniques include relaxation therapies such as meditation, progressive muscle relaxation, breathing exercises, and mindfulness. Training the body to relax and release stress can reduce pain and discomfort from chronic conditions. 
9. Therapeutic Massage
Therapeutic massages help manage pain by reducing stress and relieving tension by increasing blood flow. Massages reduce the chemicals in your body that stimulate and sustain pain. Those who suffer from painful muscles, tendons, joints, and chronic back and neck pain can benefit from therapeutic massages. By applying pressure to certain areas on the body, it is possible to impede pain signals to and from the brain, although the effectiveness is still being researched.
Finding treatments that help reduce inflammation and discomfort is important when you live with chronic pain. Regain your quality of life and get back to doing what you love with the help of the experts at Progressive Pain Management. Fill out the form below to start.
Non-Opioid Treatments for Chronic Pain
$myloop ++; ?>
There are a lot of options for treating pain without the use of narcotics. The opioid epidemic is spreading across the nation at frightening rates. Many state laws are cracking down on opioid prescriptions to prevent excessive prescribing. 
However, many chronic pain patients feel lost and confused about available options. The state of New Jersey passed a law limiting initial opioid prescriptions to 5 days to reduce opioid misuse and addiction. Other states are following suit. Chronic pain is a legitimate medical concern. 
Non-Opioid Treatments for Chronic Pain
 Over-The-Counter Pain Relievers
Taking OTC pain relievers may not be the best way to manage your chronic pain, but will help reduce symptoms on a daily basis. Many doctors prescribe Non-Steroidal Anti-Inflammatory Drugs (NSAIDs) for those suffering from chronic headaches, osteoarthritis, or rheumatoid arthritis because these medications help fight pain and inflammation. 
Physical Therapy
Patients who suffer from chronic pain are typically unable to maintain a healthy, active lifestyle. This leads to weakened joints and muscles. Physical therapy helps patients reach their full potential using low-intensity therapies like hydrotherapy and ultrasound. Once they get used to that routine and intensity, the focus can shift to more targeted exercises for their specific pain. Physical therapy encourages a higher quality of life and helps patients regain mobility. 
Acupuncture
This ancient Chinese form of pain management is most often used to help treat back and neck pain, osteoarthritis, and chronic headaches. The needles stimulate a nerve, signaling the brain to release endorphins that act as a natural opioid. By stimulating the nerve that runs from your brain to your colon, inflammation will lower and often reduce the cause of pain. 
High-Tech Methods for Treating Chronic Pain
With technology, new methods for treating pain are becoming increasingly popular with both doctors and patients. 
Radiofrequency Ablations
This process uses heat to reduce pain by eliminating communication to the brain. It's common in patients who suffer from chronic pain in the lower back, neck, and joints. It provides immediate relief and gets the patient back to a restored quality of life in a shorter amount of time. 
Spinal Cord Stimulation
Spinal cord stimulation hides the pain signal before it can reach the brain. A small device is surgically implanted under the skin and sends mild electrical currents to the spinal cord. Pain is reduced due to the stimulation modifying the pain signals and redirecting them away from your brain. Patients may sense a tingling sensation instead of pain. 
Nerve Block Injections
With the help of an X-Ray, these injections can dampen or block the pain. Nerve blocks help the pain from spreading to other parts of the body, by minimizing the signals sent to the brain. Different types of nerve blocks depend on a patient's pain. Injections can be used to treat painful conditions, determine the source of pain, or to predict the result of a treatment. 
Physicians are using these non-opioid treatments instead of writing prescriptions. Other therapies that don't include medication like exercise therapy and cognitive-behavioral therapies (CBT) are gaining popularity. They focus on changing the patient's attitude and awareness of their pain and teaching coping mechanisms to better manage their pain. 
Talk to your doctor about alternative treatment options if you suffer from chronic pain. Progressive Pain Management provides a variety of pain management options to help you find relief from your chronic conditions. Fill out the form below to get started. 
Spinal Cord Stimulation: How it Works
$myloop ++; ?>
Spinal cord stimulation therapy is a pain treatment that masks the pain signal before they reach the brain. A device similar to a pacemaker is implanted in the body and delivers electrical pulses to the spinal cord. This is an option for patients with chronic, leg, or arm pain. 
What is Spinal Cord Stimulation?
A spinal cord stimulator (SCS) is a small device that is placed under the skin and transmits a mild, low-frequency electric current to the spinal cord. A tiny wire transfers the pulse to the nerve fibers. The SCS minimizes pain because the current modifies and hides the pain signals from reaching the brain. 
It is important to note that spinal cord stimulation therapy does not get rid of the source of the pain. It simply runs interference with the signal to the brain. This means that pain relief can vary depending on the patient. The SCS device produces a slight tingling sensation.. It is this sensation that overrides the pain signals. Pain signals travel on the small nerve fibers, whereas the fabricated signals from the SCS travel on larger, more dominant nerves fibers. 
The goal of spinal cord stimulation is not to completely erase pain, but to provide a 50-70% reduction. Even the slightest bit of pain relief can be helpful to someone who suffers regularly. Before a permanent spinal cord stimulator is implanted, each patient undergoes a trial to make sure this type of therapy will be effective and reduce their pain. 
Why is SCS Used?
Spinal cord stimulation is used to treat neuropathic pain. This is pain that originates from nerve damage. The nerve damage could be caused by injury, accident, or trauma. Patients who are prime candidates for SCS have typically suffered from chronic pain in the lower back, leg, or arm. Commonly, these patients have also had previous surgeries. 
More frequently, SCS is being used to avoid back surgery. Other leading causes for receiving SCS therapy is complex regional pain syndrome and peripheral neuropathic pain. Nerve pain that spans beyond damage to the brain and spinal cord, such as from an infection or even amputation or diabetes, is another reason that SCS may be recommended by your physician. 
More recently, SCS therapy has been proven to treat a number of chronic visceral pain types, such as abdominal or pelvic pain. 
Spinal cord stimulation therapy is used when other treatment types have not been effective in reducing chronic pain or if the patient does not want to undergo surgery. Fortunately, there are no pre-existing medical conditions that would prevent someone from receiving this type of therapy. If you have pain that is caused by a correctable problem (meaning it could be fixed by having surgery or other interventional treatments), SCS is a viable option for reducing your pain. 
This type of therapy is more effective when utilized in the earlier stages of a chronic disease or condition, rather than later when a disability has been established. 
SCS therapy is used to reduce these types of pain: 
Failed Back Surgery Syndrome:

When initial surgery (or surgeries) have been ineffective in reducing pain on a consistent basis.
Sciatica or Arm Pain:

Persistent pain caused by arthritis, spinal stenosis, or extensive nerve damage.
Complex Regional Pain Syndrome:

When patients experience severe chronic pain, typically in their hands or feet. 
Other types of pain caused by stump pain, peripheral vascular disease, multiple sclerosis, or a spinal cord injury may be reduced by the use of a spinal cord stimulator. 
Benefits of Spinal Cord Stimulation
Spinal cord stimulation therapy reduces the number of abnormal pain signals from reaching the brain. However, it also helps the body restore pain-inhibition pathways that have been lost. Pain-inhibitory pathways essentially work as a gate-keeper. They control how much pain is received by the brain. SCS therapy harnesses the body's natural pain-relieving chemicals that are used by nerve fibers to communicate with each other. Not only does this whole process reduce pain, but it increases microcirculation. 
It is reported that 50-70% of patients who are candidates for SCS therapy experience 50% reduction in pain. An even higher proportion can expect to experience a 30% reduction in pain levels. For many patients who suffer from chronic pain, even the smallest amount of pain relief is welcomed. This has a profound effect on improving the quality of life in patients who have suffered from long-term chronic pain. 
Learn more about spinal cord stimulation and how it works for treating chronic pain, fill out the form below and get in touch with the team at Progressive Pain Management today.
Things to Know About Lower Extremity Pain
$myloop ++; ?>
Lower extremity pain is commonly due to overuse and inflammation as a result of conditions that affect bones, joints, muscles, tendons, and other organs. The key to pain is understanding what causes it. Only physicians can truly diagnose this kind of pain. There are a few questions to ask when diagnosing pain in your legs, hips, thighs, ankles, and lower joints. 
Is there a recent trauma?

Falls to the ground are a common cause for lower extremity pain. This is especially true when a patient is unable to recall periods of time or suffers from a drug withdrawal. There is a chance of fracture, so radiographs should be taken. 
Is the pain articular or non-articular?

Articular pain (meaning joint pain) is often accompanied by inflammation or swelling. Non-articular pain is musculoskeletal pain and affects muscles and bones. These differentiating symptoms help physicians diagnose the potential source of the pain. 
What is the root of the pain?

When determining and understanding the root of the pain, physicians consider a broad variety of symptoms and characteristics regarding your pain. Things like infection, inflammation,

vascular

, and

neoplastic

causes can disguise other sources of pain.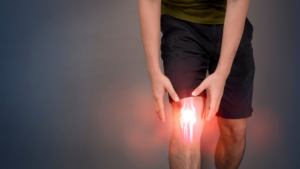 Being able to answer those questions helps pain doctors diagnose pain and recommend effective treatments for lower extremities. The term "lower extremities" includes the pelvis and hip joint, thigh, knee, lower leg, ankle, and feet. 
Types of Lower Extremity Pain
Ankle
Because your ankle bears the weight of your entire body, it is prone to injury. The ankle is a complex network of bones, tendons, muscles, and ligaments. This means there are a lot of things that can cause pain. 
Ankle pain can be caused by a number of conditions, including, but not limited to: 
Achillies tendonitis

Gout

Osteoarthritis

Plantar Fasciitis 

Sprained Ankle

Stress Fractures
Thigh 
Pain in your thigh commonly starts in nerves that surround the hip and radiate down. Muscle pain, nerve pain, and injuries are all factors to consider when looking at thigh pain. 
Pain may be caused by:
Bernhardt-Roth syndrome

Overuse

Sciatica

Peripheral Neuropathy

Sprained or torn ligament

Blood clots
Foot
Foot pain can be caused by overuse and conditions that cause inflammation like injury to tendons or ligaments in the foot. Arthritis is a common cause of foot pain. The bottom of the foot has a network of nerves that when damaged, cause immense burning sensations, numbness, or tingling. 
Common causes of foot pain include: 
Osteoarthritis

Mortnon's Neuroma

Plantar Fasciitis

Gout

Diabetic Neuropathy

Tendonitis
Lower Leg
Leg pain can be caused by a wide variety of conditions and injuries. Generally, the leg pain is a cause of tissue inflammation. This can be a result of injury or chronic diseases. The leg contains many different types of tissues and bone structures, making injury and pain very common. 
Leg pain can be caused by: 
Shin Splints

Stress Fractures

Diabetic Neuropathy

Peripheral Artery Disease

Sciatica

Deep Vein Thrombosis
Hip and Pelvis
Hip and pelvis pain can be difficult to diagnose. The movement of the hip joint, lower back, and leg bones are all connected by a large network of muscles, ligaments, tendons, and joints. Pain from another area of the body frequently causes pain in the hip and pelvis region. This is called referred pain. 
Sources of pain can include:
Bone Fractures

Arthritis

Nerve Damage

Muscle Injury or Inflammation
Knee Joint
If you use your knees to repetitively kneel or lift heavy objects, you may experience knee pain. Knee pain affects people of all ages. Injuries are common and regularly affect the ligaments, tendons, or fluid-filled sacs that surround the bone. Cartilage in the knee also gets damaged from normal wear and tear, which can cause pain. 
Common causes for pain include:
Osteoarthritis

Meniscal Injuries

Cysts

Gout

ACL tears

Bursitis
Treatment Options
Once a diagnosis has been made, your physician will create a treatment plan specific to your pain. If the cause is musculoskeletal, non-steroidal medications or acetaminophen may be used. If pain persists, stronger medications may be prescribed, although it is rare that narcotics are needed. 
If the pain is articular pain, corticosteroid injections may be used to reduce pain. Muscle and tendon pain can be reduced using physical therapy. However, if the muscle pain is due to arthritis, physical therapy may not be helpful. 
Your doctor will work with you to create an effective treatment plan that fits your lifestyle and provides the greatest success in restoring a higher quality of life. The team at Progressive Pain Management can help diagnose the underlying cause of your lower extremity pain and find a relief solution. Fill out the form below to contact the team today.